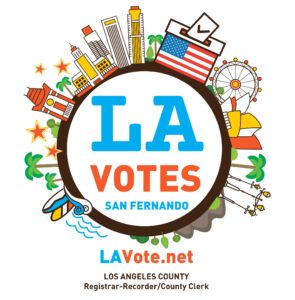 GENERAL MUNICIPAL ELECTION:
NOVEMBER 6, 2018
The City of San Fernando is a general law city with a Council/Manager form of government.  The City Council consists of five members who are elected at large to overlapping terms of four years and annually select one of their members to serve as Mayor.  
On August 21, 2017, the San Fernando City Council adopted Ordinance No. 1668, to change the City's General Municipal Elections from March of odd-numbered years to November of even-numbered years to coincide with statewide election dates. 
As a result, the next General Municipal Election will be held on Tuesday, November 6, 2018, and will be consolidated with the Los Angeles County General Election.  Registered voters in the City of San Fernando will have the opportunity to elect three councilmembers for a term of four years each.  These seats are presently occupied by incumbents Sylvia Ballin, Antonio Lopez, and Jaime Soto.
Additional election information:
Guide for Poll Watchers  Electioneering is NOT permitted within 100 feet of the polling place (i.e., within 100 feet from the entrance or door to the room/s in which voters sign the roster and cast their ballots.
For more information, please contact the City Clerk Department at CityClerk@sfcity.org or call (818) 898-1204.
ELECCIÓN MUNICIPAL GENERAL:
6 DE NOVIEMBRE DEL 2018
La Ciudad de San Fernando es una ciudad de derecho general con una forma de gobierno de consejo/gerente. El Concejo Municipal consta de cinco miembros que son elegidos en general para traslapar los términos de cuatro años y anualmente seleccionar a uno de sus miembros para servir como alcalde.  
El 21 de agosto del 2017, el Concejo Municipal de San Fernando aprobó la Ordenanza No. 1668, para cambiar las Elecciones Municipales Generales de la Ciudad de marzo de los años impares a noviembre de los años pares para que coincidan con las fechas de las elecciones estatales. 
Como resultado, la próxima Elección Municipal General se llevará a cabo el martes 6 de noviembre del 2018 y se consolidará con la Elección General del Condado de Los Ángeles. Los votantes registrados en la Ciudad de San Fernando tendrán la oportunidad de elegir tres concejales por un período de cuatro años cada uno. Estos asientos están actualmente ocupados por los titulares Sylvia Ballin, Antonio López y Jaime Soto.
Para obtener más información, comuníquese con el Departamento de la Secretaria Municipal a CityClerk@sfcity.org  o llame al (818) 898-1204.
CITY HALL | City Clerk Department
117 Macneil Street, San Fernando, CA 91340
| | |
| --- | --- |
| March 7, 2017   | 7 de marzo, 2017   |
| March 3, 2015 | 3 de marzo, 2015 |
| June 4, 2013 (Special Election) | 4 de junio, 2013 (Elección Especial) |
| May 21, 2013 (LACCD & LAUSD) | 21 de mayo, 2013 (LACCD & LAUSD) |
| March 5, 2013 – Cancelled due to Insufficient Candidates | 5 de marzo, 2013 – Cancelada Debido a Insuficiente Candidatos |
| November 6, 2012 (Special Election) | 6 de noviembre, 2012 (Elección Especial) |
| March 8, 2011 | 8 de marzo, 2011 |
| March 3, 2009 | 3 de marzo, 2009 |
| January 13, 2009 (Special Election) | 13 de enero, 2009 (Elección Especial) |
| March 6, 2007 | 6 de marzo, 2007 |
| March 8, 2005 | 8 de marzo, 2005 |
| March 4, 2003 | 4 de marzo, 2003 |
| March 6, 2001 | 6 de marzo, 2001 |
| March 2, 1999 | 2 de marzo, 1999 |
| March 4, 1997 | 4 de marzo, 1997 |
| April 12, 1994 | 12 de abril, 1994 |
| April 14, 1992 | 14 de abril, 1992 |