A MESSAGE FROM THE CHIEF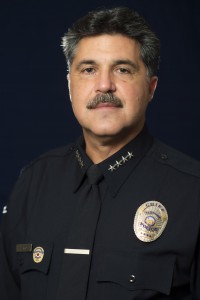 Welcome to the San Fernando Police Department's webpage. Our motto is "Serving with Honor and Integrity" and we feel that it's not only our duty to protect our citizens, but to educate them as well. Use the below links to access a wealth of information, from neighborhood watch/area lead officers to the latest in local law enforcement news. You can also search our resource library/other helpful links (below) for crime victim assistance, sex offender information, and much more.
In San Fernando, we have a long history of providing a high level of police services to the members of our community. I believe if residents, business owners, and visitors feel safe from violence and crime, a community will thrive. The San Fernando Police Department has been effective by working in partnership with residents, businesses, schools, religious organizations, neighborhoods, and other City services. We fully embrace the philosophy of Community Oriented Policing, in which the San Fernando Police Department and the community work together to solve problems regarding crime, fear of crime, and quality of life issues.
The San Fernando Police Department recognizes and values the diverse and unique contributions made by every member of our community and we will always have the highest commitment to provide you with the most professional and dependable police services possible.
POLICE FACILITY | Police Department
910 First Street, San Fernando, CA 91340
CRIME MAPS
Crime Maps are a monthly view of Part 1 crimes that have been reported to the San Fernando Police Department. Part 1 crimes consist of Homicide, Rape, Robbery, Assault, Burglary, Larceny, Arson and Auto Theft.
POLICE BLOTTER
The San Fernando Police Department Blotter provides residents with information on activity that has occurred in the community. The Blotter data is accumulated from requests for service from the community and offer initiated activity. Sometimes that true nature of the incident differs from what is initially reported. No assumption of criminal guilt or affiliation should be drawn from the content of the information provided.
This webpage contains files that are required to be posted in compliance under Senate Bill 978 (SB 978), which would also be available upon a written Public Records Act Request made to the San Fernando Police Department. The Department will continue to upload records disclosed pursuant to SB 978 (Penal Code Section 13650) as they become available.  
Although our City and police staff are working diligently to provide responsive records as quickly as possible, please keep in mind that these documents can be voluminous in nature and encompass hundreds of pages.
In order to comply with the spirit and intent of the law, you will find the documents in a PDF format under the following subheading links:
NALOXONE (CARCAN TRAINING)   

As a small police department, the majority of our training are provided by other agencies and these materials are not posted on this website. These are available through such agencies as may be legally required and redacted as allowable under the law.
Nine-one-one is the number to call to get help in a police, fire or medical emergency. A 9-1-1 call is transmitted over dedicated phone lines to the 9-1-1 answering point closest to the caller. Trained personnel then send emergency help as needed.
El nueve-once es el número de teléfono para recibir asistencia policiaca, de incendio o emergencia médica. La llamada al 9-1-1 se trasmite sobre una línea telefónica dedicada al  centro del 9-1-1 más cercano. Personal entrenado  manda  la asistencia de emergencia necesaria.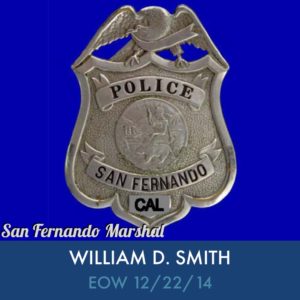 WILLIAM D. SMITH, MARSHAL
EOW: 12/22/1914 | AGE: Not Available | TOUR: 1 Day
Marshal William D. Smith was shot and killed while attempting to arrest three males suspected of committing a burglary.
Marshal Smith found the three suspects asleep alongside a road and attempting to waken them. One of the men fired three shots into Marshal Smith's body. The three suspects then fled the area on foot. One of the three suspects was captured a short while later as he hid in an adjacent arroyo.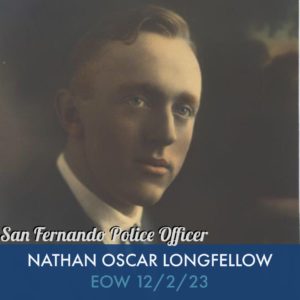 NATHAN OSCAR LONGFELLOW, POLICE OFFICER
EOW: 12/2/1923 | AGE: 22 | TOUR: 1 Year 
Officer Nathan O. Longfellow was shot on November 29, 1923 while attempting to transport a suspect to the City jail. He had been enroute to the jail with a suspect who had been arrested for disturbing the peace. Without warning, the suspect pulled out a gun from underneath his vest and fire three shots at Officer Longfellow. One of the rounds struck Officer Longfellow in the chest. 
Officer Longfellow immediately fell to the ground while the suspect was overpowered by infuriated citizens. Officer Longfellow lived for several days and eventually died from his injuries on December 2, 1923.
The defendant in this case was ultimately tried, convicted, and was executed by hanging at San Quentin Prison in 1925.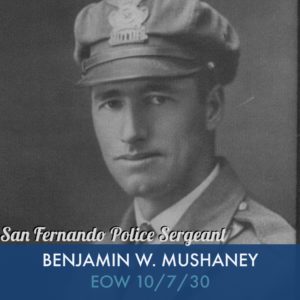 BENJAMIN MUSHANEY, SERGEANT
EOW: 10/7/1930 | AGE: 29 | TOUR: 6 Years 
Sergeant Benjamin W. Mushaney was shot in the chest with a rifle bullet while responding to a landlord-tenant dispute in the 1300 block of Hollister Street. The shooting occurred at 11:20 in the morning and involved a female tenant attempting to obtain a $2.00 refund from the suspect, the landlord. 
As Sergeant Mushaney approached the front portion of the home, the suspect fired at him from an open window. The soft-nosed bullet struck Sergeant Mushaney in the chest, who then stumbled around the side of the house and collapsed, mortally wounded. The suspect then shot the female tenant, striking her in the back. The gunman barricaded himself in the residence and continued to shoot at responding officers and residents in the area. Officers from several jurisdictions arrived at the scene and eventually administered tear gas into the home. The suspect was ultimately shot and killed by officers as he fled the home on foot, still firing at officers.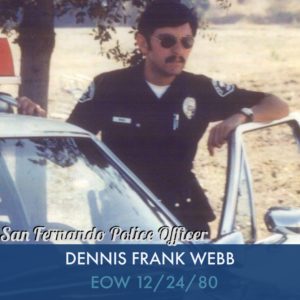 DENNIS FRANK WEBB, POLICE OFFICER
EOW: 12/24/1980 | AGE: 30 | TOUR: 5 Years 
Officer Dennis Frank Webb was fatally shot six times at close range by the man he stopped during the early morning hours of December 24, 1980. The suspect fit the description of an armed robber who had held up a 7-Eleven market in nearby Sylmar about 90 minutes earlier. The killer drove off in Officer Webb's black and white patrol car, abandoning it in a park about eight miles from the shooting scene.
Two fellow officers were enroute to back up Officer Webb as he questioned the suspect when the gunfire erupted. They reached the fallen patrolman 90 seconds after his last radio transmission, but by that time the gunman was gone.
The officers carried Officer Webb to the patrol car, rushed him to Holy Cross Hospital about a half mile away. Officer Webb died in surgery at 5:50 a.m.
Officer Webb had survived the ordeal of Vietnam and had been honorably discharged from the Armed Forces in 1975. He was currently a second lieutenant in the Army Reserve.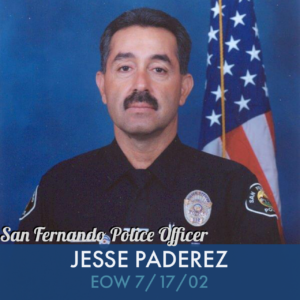 JESSE KENNETH PADEREZ, POLICE OFFICER
EOW: 7/17/2002 | AGE: 46 | TOUR: 10 Years 
Officer Jesse K. Paderez died on Wednesday, July 17, 2002 in the parking lot of the San Fernando Police Station after his handgun fell to the ground and fired, striking him in the head and fatally wounding him.
Paderez had apparently been carrying his holstered .45-caliber gun in his hands as he walked through the department parking lot transferring material from his private vehicle to his marked unit.
The entire San Fernando Police Department attended Jesse's memorial service, in which Paderez spent his entire decade-long career. His co-workers described his dedication to family and the community, and recalled how he frequently joked that he'd spotted suspects the day before they were wanted.
Paderez, who spent the last decade as a patrol officer, was also a member of the San Fernando Police Department's Special Response Team. He graduated in October 1992 from then Rio Hondo Police Academy, Class #110.
October is National Breast Cancer Awareness month. In demonstrating our support, SFPD Officer's are permitted to wear commemorative pink shoulder patches on their uniform shirts.
In addition, the commemorative patches are available for sale to community members.
For information, SFPD does not wear shoulder patches on exterior police jackets. The police uniform is blue or black in color with shoulder patches worn on the uniform shirt. The uniform shirt will also contain a metal or cloth badge, name plate, and rank insignia. Also, the officer will be wearing a duty belt with various equipment including a police radio.
This information is provided to ensure that community members are able to identify San Fernando PD Officers from other citizens who may affix the commemorative pink patches to a piece of clothing.
If you believe that you have been contacted by someone impersonating a San Fernando Police Officer, please contact the department at 818-898-1267 (24 hour line).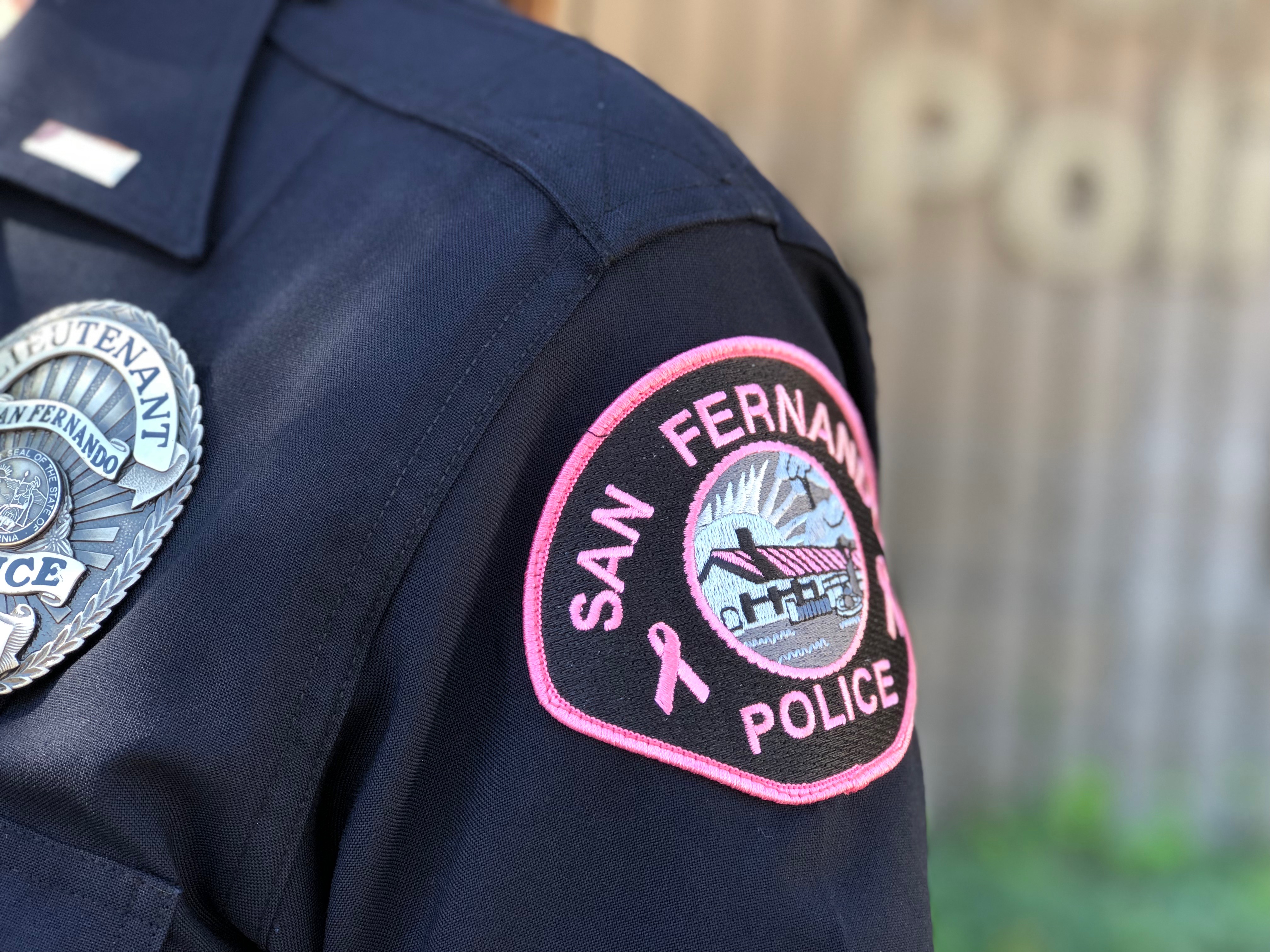 The San Fernando Police Department actively participates in various activities throughout the year. Below, you will find some of those events.
IT'S MOVEMBER!
Join the San Fernando Police Department in raising awareness for men's health, including prostate and testicular cancer. 
The Department will be growing out their mustaches and beards throughout November. Donate to the team, or any member's, fundraiser page for an opportunity to vote for your favorite stache or beard! Check back throughout the month for status updates!
THE TEAM ON NOVEMBER 1, 2020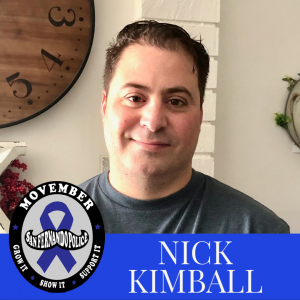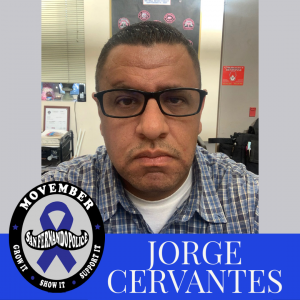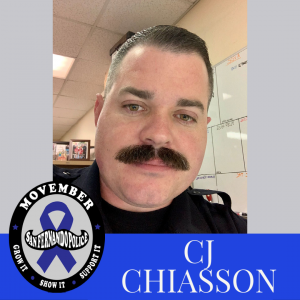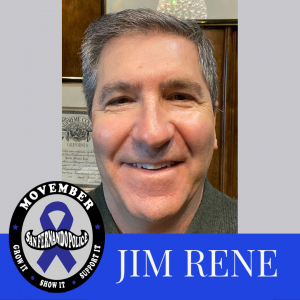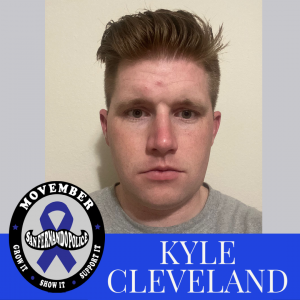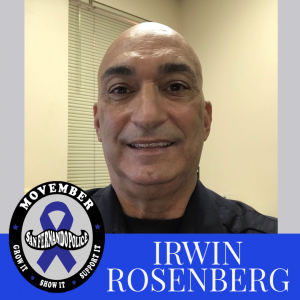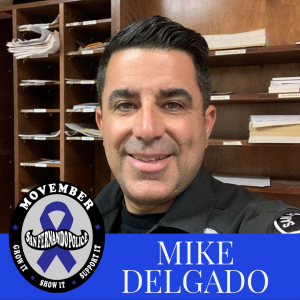 San Fernando Police Canine Officer Walter Dominguez and Canine Loki may be seen at minute 29:30
San Fernando Police "Mug" at 2018 Baker to Vegas
After 10 years of participating in the annual Baker To Vegas Race, the San Fernando Police Department is honored and excited to announce they officially "mugged" by placing 11th out of 30 teams. Their official time to travel 120 grueling miles was 17 hours and 6 minutes. 
Congratulations to the team of runners (including San Fernando Police, USC Police, South Pasadena Police, and San Marino Police), support staff, and communication staff!