The Patrol Division has the primary responsibility for safeguarding the community through prevention of crime, suppression of criminal activity, apprehension of offenders, and regulation of traffic, and preliminary investigation of criminal offenses. 
The Patrol Division consists of:
Communications

Dispatch Calls

Lobby Traffic

9-1-1 Operators

Jailers

General Telephone Calls
Community Service Officers (parking enforcement)

Neighborhood Watch/Area Lead Officers
POLICE FACILITY | Patrol Division
910 First Street, San Fernando, CA 91340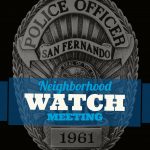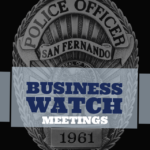 Neighborhood Watch and Business Watch are crime prevention and awareness programs that stresses education and common sense. It teaches residents and business owners to help themselves by identifying and reporting suspicious activity in their neighborhoods and our business districts. In addition, it provides residents and business owners with the opportunity to make their neighborhoods and business districts safer and improve the quality of life.
Neighborhood Watch and Business Watch also provides the opportunity for members of the community to meet and speak with guest speakers.
CONTACT INFORMATION
Irwin Rosenberg, Lieutenant
(818) 898-1255 | IRosenberg@sfcity.org
UPCOMING MEETINGS & EVENTS
CRIME MAPS
Crime Maps are a monthly view of Part 1 crimes that have been reported to the San Fernando Police Department. Part 1 crimes consist of Homicide, Rape, Robbery, Assault, Burglary, Larceny, Arson and Auto Theft.
POLICE BLOTTER
The San Fernando Police Department Blotter provides residents with information on activity that has occurred in the community. The Blotter data is accumulated from requests for service from the community and offer initiated activity. Sometimes that true nature of the incident differs from what is initially reported. No assumption of criminal guilt or affiliation should be drawn from the content of the information provided.
Nine-one-one is the number to call to get help in a police, fire or medical emergency. A 9-1-1 call is transmitted over dedicated phone lines to the 9-1-1 answering point closest to the caller. Trained personnel then send emergency help as needed.
El nueve-once es el número de teléfono para recibir asistencia policiaca, de incendio o emergencia médica. La llamada al 9-1-1 se trasmite sobre una línea telefónica dedicada al  centro del 9-1-1 más cercano. Personal entrenado  manda  la asistencia de emergencia necesaria.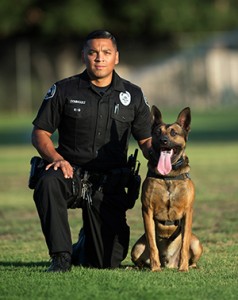 Our K-9 program was founded in 1987.
Since February 2011, Officer Walter Dominguez has been assigned to the canine unit. In 2017, K9 Loki, who is a three (3) year old Belgian Malinois, dual purpose dog, who is trained for patrol and narcotics detection, joined Officer Dominguez and the San Fernando Police Department canine unit.
The primary initiative of the K9 team is to search for and locate suspects, evidence, narcotics that can be linked to a specific crime.
CONTACT INFORMATION
(818) 898-1267
Review Qualifications and Applicant Information form; see Forms Section below for the current form.

Download application from website or pick up from City Hall, Personnel Division; see Forms Section below for the current application form.

Return completed and signed application to the Police Department.

Qualified individuals will be invited to the interview process.

Upon successful completion of the interview process, a background process will be initiated.

CONTACT INFORMATION

Carlos Fandino, Lieutenant
(818) 898-1262 | CRFandino@sfcity.org
The San Fernando Police Department formed the Special Response Team to try and counter an ever-increasing propensity for violence in our community, as in other communities throughout the country. The SRT is comprised of selected members of the Department which have shown exemplary work ethics. Those officers then received extensive tactical training above and beyond that of other officers.  The SRT has operated with no budget and little cost to the City. 
The mission of the SRT is to provide the Department with the capability to safely resolve high-risk situations. Some examples of these types of situations are:
Suicidal subjects (Armed)

High risk search warrants/raids

Other situations where the likelihood of armed resistance appears great

CONTACT INFORMATION

(818) 898-1267