CITY OF SAN FERNANDO'S 2021 YEAR IN REVIEW
PROGRESS UPDATE ON DOWNTOWN OPPORTUNITY SITE
Over the last several months the project team from Azure Development has worked on project shaping, due diligence, and studying feasibility of the proposed project. One the most significant components of the due diligence is development and implementation of a community outreach plan. 
On February 1, 2021, the City Council agenda includes a presentation and discussion of the draft community outreach plan by Azure Development. Azure Development will present their proposed community input and outreach tools to involve the community and stakeholders in the planning process.
Please join the meeting, which starts at 6:00 pm here: YouTube.com/c/CityOfSanFernando
By the submittal deadline of January 31, 2020 for the Request for Qualifications for Parking Lot No. 3 Mixed/Blended-Use Development Opportunity (RFQ), the City received one response from a development team led by Azure Development, Inc., a real estate development corporation, based in Commerce, CA. Azure was vetted by Kosmont Companies and City staff and determined to be a responsible developer that met the qualifications provided in the RFQ.  
Over the past few months, the City and Azure have developed a proposed Exclusive Negotiation Agreement for Council consideration to provide a specified period of time to attempt to negotiate a development agreement for redevelopment of Parking Lot No. 3 into a blended-use development. An Exclusive Negotiation Agreement is a non-binding agreement that outlines the City's and developer's obligations and a 12 to 24-month timeline to negotiate exclusively and in good faith on a development project. Importantly, Azure is required to submit a comprehensive community outreach plan for City approval, conduct the outreach and collect community input during this timeframe.
On July 20, 2020, the City Council Agenda includes an action item to consider approval of an Exclusive Negotiation Agreement with Azure.
REQUEST FOR QUALIFICATIONS
The City of San Fernando invites you to respond to the City's Request for Mixed/Blended-Use Developer Qualifications (RFQ) for development of a City-owned 1.44-acre site located in Downtown San Fernando suited for a blend of retail, restaurant, residential, and entertainment uses (with residential uses above commercial uses). The City desires the development to be a synergistic, experiential destination complementary to Downtown San Fernando.
VISION FOR DOWNTOWN COMMUNITY MEETING
On September 24, 2019, more than 40 community members gathered at San Fernando Library to share their ideas and vision for Downtown San Fernando. The City and Ken Hira, from Kosmont Companies, who is the City's economic development advisor, gave a short presentation and then facilitated as the community shared what uses would be needed and desired in San Fernando's downtown. Community input was provided via a question and answer segment, via comment card, via Facebook Live comments, and via online survey. 
Didn't attend the meeting? Don't worry, we broadcasted it via Facebook Live.
Click Here or the icon below to be redirected to the City's Facebook page.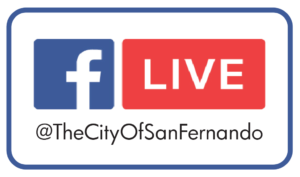 WE WANT TO HEAR FROM YOU!
Take a survey and let us know what you'd like at the development site.
Founded in 1874 and incorporated on August 31, 1911, the City has transformed from a small township in to a distinct community in the Northeast San Fernando Valley surrounded by the City of Los Angeles. The San Fernando City Council is committed to preserving the city's rich history while focusing toward building a vibrant future that supports existing businesses, creates new economic development opportunities and ultimately showcases why the city is a great place to work, visit, and live.  The City Council's efforts are exemplified under the City's adopted motto of being "Historic and Visionary" and focuses on striking the right balance of economic, cultural, political, social, and recreational opportunities for residents and businesses alike.
The City benefits from a large stock of historic homes with unique character and varied architectural styles creating great opportunities for young families to buy and restore homes, establish roots, and become a part of a larger community with a distinct character all its own. Additionally, the City benefits from a mix of exemplary public and private schools that offer students multiple alternatives for a quality education.
The San Fernando Police Department's average emergency response time throughout the City is three minutes and the Department exemplifies what community base policing really is by being engaged with residents, businesses, the City Council and other community stakeholders to address all public safety issues that may arise in the community. The Department has time and time again stepped up to protect public health, safety and general welfare and continue to make the City a safe place for people to live, work, and play.
The City is 2.4 square miles and is conveniently located in the Northeast San Fernando Valley portion of Los Angeles County; 23 miles north of downtown Los Angeles.  The City is easily accessible from the 5, 210, and 118 Freeways and has excellent public transportation options via the existing San Fernando/Sylmar Station that connects the Metrolink's Antelope Valley line from San Fernando to downtown Los Angeles via an existing commuter rail line and extensive bus lines.
The City's seven parks, including the Olympic-size pool at the San Fernando Regional Pool Facility, offer residents and visitors to the community multiple exercise, playground and recreational opportunities. The City boasts two national award-winning community programs, including the 100 Citizens Fitness Program and the Master Mariachi Apprentice Program. Both programs provide hundreds of families each year access to effective research-based programs designed to enrich lives. The City also works with several local partners, including the San Fernando Community Health Center, to implement an annual city-wide Healthy San Fernando! Campaign. As you can see, existing and future residents benefit from the comprehensive and diverse recreational, cultural, social and human service programs.
The City is committed to helping existing and new business be successful. This commitment is exemplified in the City's effort to streamline the permit processing, improve customer service, and cut red tape. The City has revamped its zoning regulations to allow by-right commercial land uses, retained competitive sewer and water connection fees, comparatively low business licenses fees, and eliminated unnecessary requirements. 
Interested to find out more about our great community of San Fernando and why it is a great place for you to conduct business and/or live? Take a look at our Community Facts and Figures and Opportunity Sites information below and give us a call!
The City of San Fernando has recently completed the San Fernando Corridors Specific Plan to guide development in the downtown and surrounding areas. The City Council is seeking help understanding current real estate fundamentals and economic development tools in a Post Redevelopment ERA, in order to achieve economic growth and attract qualified developer interest. The City owns properties in the downtown and has hired Kosmont Companies to evaluate the assets given current market conditions and potential public private transaction negotiations.
Click Here to view the full Downtown San Fernando Economic Development and Asset Analysis
The City of San Fernando has distinct shopping areas including the Historic Downtown San Fernando, the Civic Center shopping area, La Rinda Plaza Shopping Center, the Home Depot Shopping Center on Foothill Boulevard, and the Smart & Final and Walgreens Site on Glenoaks Boulevard.
The City has facilitated the establishment and growth of both nationally recognized retailers and restaurants and private entrepreneurs that provide of a mix of restaurant, retail and service commercial uses to residents and visitors to our city.
Following is a sampling of some of the businesses in the City:
Rydell Chrysler, Dodge, Jeep Ram
The following list identifies the top city employers*:
Los Angeles Unified School District

Los Angeles County Superior Court

City of San Fernando

*Disclaimer: The City of San Fernando makes no claims concerning the accuracy of data provided nor assumes any liability resulting from the use of information herein.
City of San Fernando demographic, economic, and zoning/land use information are available for download.
CITY OF SAN FERNANDO COMMUNITY PROFILE

Take an in-depth look at our City's demographic makeup through a survey conducted by Southern California Association of Governments.

LARGEST EMPLOYERS

See the City's principal or largest employers as noted in the City's Comprehensive Annual Financial Report (CAFR).

QUARTERLY SALES TAX UPDATES

Find City sales tax information for the City's Top 15 Business Types, the Top 25 Businesses, as well as sales per capita.

CITY FINANCIAL INFORMATION

View the City's financial documents, which have been nationally recognized for excellence in budgeting and financial reporting.

CITY ZONING AND LAND USE MAPS 

View City maps including :City Zoning Map, San Fernando Corridors Specific Map, Corridors Specific Plan Sub-District Maps, and City General Plan Land Use Map.

SPECIFIC PLANS AND ZONING CODE

Review permitted land uses and applicable development standards for each of the City's Specific Plans and the City Zoning Code.

DOWNTOWN TRAFFIC COUNTS

Review the Average Daily Trips (ADTs) taken from Engineering and Traffic Survey Report for Speed Limits, 2015, prepared by Tom Brohard and Associates (January 20, 2015)

CONTACT INFORMATION

Interested to find out more about our great San Fernando community and why it's a great place for you to live or conduct business? Please call the Community Development Department's Economic Development Division for more detailed zoning and building code information for a specific site that you are interested in and to find out the first steps to starting up a business in San Fernando.

Economic Development Division
(818) 898-1227 | CommunityDevelopment@sfcity.org

NEW TAX INCREMENT TOOLS

The old redevelopment economic development tool is gone but several new tools, which the League of California Cities helped shape, are now in place and allow tax increment to be used for various purposes. They differ significantly from "old school" redevelopment, but offer potential to help cities solve problems. Compared with redevelopment, the new tools have reduced financial capacity, thus requiring innovative thinking and new partnerships to maximize their potential. Click Here or the link above for more information.