The Community Development (CD) Department provides services and administers programs related to the city's built environment. The CD Department works with businesses, property owners and residents in order to preserve and improve the quality of life in the City ensuring that San Fernando continues to be a great location to shop, work, and live.
The CD Department is responsible for:
Ensuring development projects and proposed land uses are consistent with the City's General Plan goals and objectives and comply with the City's Zoning Code;

Review construction proposals and conducts inspections in order to ensure that projects comply with the City's building, health, and safety codes; and

Enforce City and Zoning Codes.
The Housing Element Update provides a unique opportunity for community members to get involved in the planning process to share their experience and knowledge of the City and offer input and direction to help shape the future of housing in San Fernando.
In an effort to adequately prepare the policies and objectives, the City is requesting public feedback from the community. 
SAFETY ELEMENT
(Public Draft | May 2022)
The Safety Element evaluates safety hazards in San Fernando, both existing and potential. It establishes policies and actions to avoid and reduce these hazards to protect the community. Topics covered in this chapter include:
Geologic and Seismic Hazards

Dam Failure Inundation Hazards

Hazardous Materials Hazards

Climate Change Hazards

The Safety Element also establishes environmental justice policies and actions to reduce disproportionate environmental burden present in San Fernando. The negative impact of environmental hazards and pollution on the San Fernando community is described across the following key focus areas:

Pollution Exposure and Air Quality

Physical Activity, Food Access, and Public Health

Civic and Community Engagement
FINAL INITIAL STUDY-MITIGATED NEGATIVE DECLARATION
(May 2022)
A Mitigated Negative Declaration (MND) has been prepared pursuant to the California Environmental Quality Act (CEQA) for the updated Housing and Safety elements.  The Draft MND analyzed potential environmental impacts, included mitigation measures to mitigate any potential impacts to less than a significant level, and concluded that the project will not have a significant effect on the environment.  The Draft MND was available for public review from December 16, 2021 to January 14, 2022, and three comments were received on the Draft MND.  Responses to all comments received are included in the final Draft MND.
PARKING MANAGEMENT MASTER PLAN
In fall 2020, the City of San Fernando launched a Citywide Parking Management Master Plan. A parking management plan is a helpful tool to assist jurisdictions comprehensively address both the location and amount of parking in specified locations. Generally, a parking management plan serves as a road map for how cities can maximize the efficiency of existing parking and support future parking needs.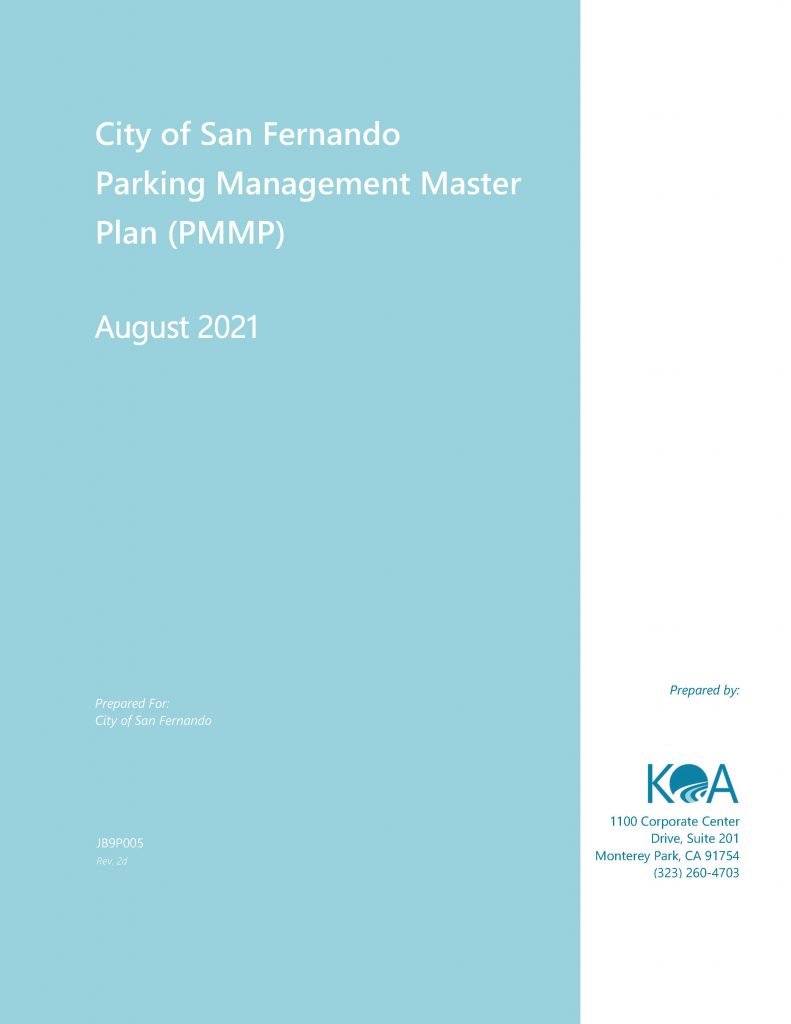 BUILDING & SAFETY
The Building and Safety Division is responsible for:
Reviewing all construction plans to make sure they comply with City building, health and safety codes*;

Inspecting all permitted construction projects and conducting residential property pre-sale inspections;

Assisting with housing, fire protection, and zoning inspections and enforcement; and

Coordinating with Los Angeles Fire Department on fire code enforcement requirements. 

* The City of San Fernando enforces the code provision of the 2019 California Building Code and 2017 California Fire Code.
RESIDENTIAL PROPERTY PRE-SALE INSPECTION
The City has adopted the Residential Property Pre-Sale Inspection and Report Program ("the Program") in order to protect purchasers of residential real property within the city that may be unaware of any un-permitted construction or other unlawful conditions at the property they are considering buying.  
The Program requires sellers to submit a Residential Property Pre-Sale Inspection Application and obtain the resulting pre-sale inspection report before they sell any residential property. The Program applies to all residential properties within the city, with the exception of hotels, motels, mobile homes, and mobile home parks.
The Program assures that purchasers are provided with a report of city records related to the structure at the property, and of any code violations as identified by a city inspection of the property prior to the sale or exchange of residential property.
The Program is also intended to protect and promote the existence of safe residential buildings, dwelling units, and neighborhoods by the enforcement of regulations designed to correct and prevent the sale or transfer residential buildings and dwelling units that are dangerous, deficient, substandard or unsanitary.
COMMUNITY PRESERVATION
The Community Preservation Division seeks to work with residents, property owners, and businesses to enhance the quality of life and to foster civic pride by maintaining the beauty and charm of our city. The Division is charged with enforcing all City code requirements and investigating any code violation complaints. The Division is also responsible for implementing the City's Graffiti Abatement Program.  
REPORTING POSSIBLE CITY CODE VIOLATIONS
Report code violations 24-hours a day to the Community Development Department at (818) 898-1227. Staff members are available to take your calls during normal City Hall hours of operation, or a voice message may be left after hours. You may report violations anonymously and all reports are handled confidentially.

Please make sure to include the location and a description of the violation. If you would like a call back, please leave your name and telephone number.

The Division's goal is to conduct an initial inspection within one working day of receipt of your call. However, if the code violation creates a potential emergency, please contact the San Fernando Police Department at (818) 898-1267. 
A documented City Code violation can result in a warning, notice of compliance, fine, and even legal action.
CONTACT INFORMATION
Jose Luis Raygoza, Community Preservation Officer
(818) 898-1228 | LRaygoza@sfcity.org
Todd Matsuoka, Community Preservation Officer
(818) 898-1230 | TMatsuoka@sfcity.org
City Hall | 117 Macneil Street, San Fernando, CA 91340
GRAFFITI ABATEMENT
The Community Preservation Division is responsible for implementing the City's Graffiti Abatement Program and ensuring that graffiti is removed from all areas in the public right-of-way, including sidewalks, streets, telephone/light poles, and utility boxes. The Division's graffiti abatement team works to ensure that all graffiti is removed from private and public property within 72 hours of the initial report.  
Division staff will inspect the location of the graffiti, and will either remove the graffiti (as long as it falls under the City Guidelines) or notify property owners if they are unable to remove.
Graffiti may be reported using these methods:
CALL
GRAFFITI HOTLINE
(818) 898-7315
24-Hours A Day
VISIT
COMMUNITY DEVELOPMENT DEPARTMENT
(818) 898-1227
REGULAR BUSINESS HOURS
YARD SALE PERMITS
City of San Fernando residents are permitted two Yard Sale Permits (per address, per calendar year), in the following three options: 
ONE
THREE DAY PERMIT
$10
Friday, Saturday, Sunday
TWO
CONSECUTIVE WEEKENDS
$10
Saturday/Sunday and Saturday/Sunday
TWO
NON-CONSECUTIVE WEEKENDS
$5 Each Weekend
Limited to Saturdays and Sundays
Residents that wish to conduct a yard sale on the weekend may come in Monday through Friday prior to the weekend of the yard sale.
PLANNING
The Planning Division is responsible for guiding the future growth and development of the community consistent with the City's General Plan, specific plans, and zoning and subdivision ordinances.  
The Planning Division provides City support to the City Council, the Housing Successor and Successor Agency of the City's former Redevelopment Agency, and the Planning and Preservation Commission.
CONTACT INFORMATION
Gerardo Marquez, Associate Planner
(818) 837-1540 | GMarquez@sfcity.org
City Hall | 117 Macneil Street, San Fernando, CA 91340

CITY ZONING & LAND USE MAPS
Click on any of the links below for specific maps within the City of San Fernando that may interest you.
RESOURCES
REDEVELOPMENT PROJECT AREAS & PLANS
2018 SCAG Sustainability Award