The City of San Fernando hopes you and your loved ones are well and that you are coping with the challenges of your daily life in the fight to control COVID-19, commonly known as novel coronavirus. 
Parks are an important aspect of the health and joy for the San Fernando community and play a vital role in how San Fernando residents manage the changes to the way we all live, work and play.  The Recreation and Community Services Department (RCS) will continue to monitor the pandemic and adherence to health guidelines and precautions issued by the Los Angeles County Department of Public Health, that are critical to safely operate our parks, programs, and facilities.
The RCS Department will slowly re-open amenities, park areas, and recreation programs and services, based on the reopening protocols set by the County of Los Angeles and health guidelines to help prevent the spread of COVID-19.  As it is the top priority for RCS to take precautions to ensure the health and safety of park guests, visitors, program participants, team members, and the Community.
Thank you for your support and understanding as we adapt to this fluid situation. These extraordinary efforts will help with the City, County, and global effort to stop the spread of COVID-19.
RECREATION SCHOLARSHIP PROGRAM
The San Fernando City Council established a Recreation Scholarship Program (RSP) to assist families wishing to participate in the fee-based programs offered to San Fernando residents. RSP assistance is available to San Fernando residents for all recreational programs offered by the Recreation and Community Services Department, including programs for youth, adults, and seniors. 
Scholarships cover 50% of the cost of the activity.
ELIGIBLITY:
Must be a resident of the City of San Fernando

Complete a brief self-certifying form 

Include a San Fernando Water Bill to include proof of residency (utility bill, photo ID, driver's license, etc.)

Assistance will be available on a first-come, first-serve basis

Program begins July 1, 2022 

CONTACT INFORMATION

(818) 898-1290 |

Recreation@sfcity.org

Recreation Park | 208 Park Avenue, San Fernando
FREE TAX PREPARATION CLINICS
If you made under $60,000 in 2022, VITA's professionally trained volunteers can help prepare and electronically file your federal and state income tax returns at Las Palmas Park. 
All services will be by appointment only. Make your appointment online at csun.edu/vita or call (818) 677-3600.
PARK REVITALIZATION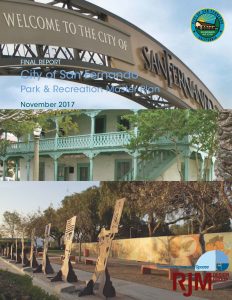 CITY OF SAN FERNANDO PARK & RECREATION MASTER PLAN
The San Fernando Park and Recreation Master Plan (referred to as the Master Plan) serves as a guide and implementation tool for the management and development of parks and recreational facilities for the City of San Fernando. The Master Plan process complements the defined strategy of the 1987 General Plan and Open Space Element, setting forth the vision to designate, as appropriate, open space land for the following
purposes; 
Open space for the preservation of natural resources such as animal and plant life and ecological areas.

Open space for the managed production of resources such as agricultural land areas or major mineral deposits.

Open space for outdoor recreation such as areas particularly suited for park and recreation purposes.

 Open space for public health and safety such as areas which require special management or regulation because of hazardous conditions including earthquake fault zones and unstable soil areas.

Open space dedicated to creating experiences that provide for good citizenship, a sense of community, and a better quality of life. 

The Master Plan also reflects the defined goals and strategies of the 1992 Parks Action Program as follows;

Provide both active and passive park facilities and recreation programs that address the leisure time needs of all ages, income levels, ethnic groups, and physical capabilities to enhance the overall quality of life of San Fernando as a whole.

Promote community health and fitness through active recreation programs.

Engage and maintain community support for parks and recreation programs.

Use San Fernando's park and recreation system to help create a strong community image for San Fernando.

Maintain all parks at the highest level possible to provide a pleasant and safe experience for users.  

CURRENT PARK REVITALIZATION PROJECTS

LAS PALMAS PARK REVITALIZATION PROJECT POP-UP EVENT

The California Department of Parks and Recreation awarded 4.2 million to the City for the Las Palmas Park Revitalization Project as part of the Statewide Parks Development and Community Revitalization Grant Program and Governor Newsom Administration's "Outdoors for All" initiative.

The revitalization project includes the construction of a new multipurpose athletic field, a splash pad, a Tennis/Pickleball court, and new landscaping throughout the park. The project will also renovate the learning center, the patio restrooms, and the playground, which will include ADA accessibility and shading. Other park improvements include renovations to the basketball court, baseball fields, walking paths, and picnic shelters.  Lighting will be installed on the walking paths the baseball fields and the picnic shelters. The outdoor exercise equipment, restrooms, and the concession stand all will be refurbished as well. 

User groups, organizations, and patrons of Las Palmas Park are invited to play an important role in the planning process and design of the Revitalization Project. The Recreation and Community Services Department will hosts a series of Focus Group meetings and Pop-up Events to gather feedback on the design elements of the project.

UPCOMING POP-UP EVENTS

Check back for upcoming pop-up events

Subsequent Focus Group meetings and input opportunities will be announced as the dates and times become available.  The City encourages your feedback and vision so that the Las Palmas Revitalization Project builds the park you want.

LAYNE PARK REVITALIZATION PROJECT 

The City of San Fernando received funds for the Statewide Park Development and Community Revitalization grant program to improve the recreational opportunities for the residents in and around the Layne Park neighborhood.  

On May 12, 2021 and June 2, 2021, the City hosted in-person meetings to gather input from the community members. The feedback will help guide the design of the Layne Park improvements.

Construction for the Layne Park Project will start on February 27, 2023, and is expected to be completed by August 31, 2023. Stay tuned for information on the Grand Re-Opening that will celebrate the new Revitalized Layne Park!
COMMUNITY SERVICES
The Community Services Division oversees the social services programs and recreational activities for the residents of San Fernando and surrounding communities. Currently, the social services programs include the Elderly Nutrition Program and the Tutčint Youth Empowerment Program. Recreation programs include the Day Camp and the Las Palmas Golden Fun League. The Division fosters collaborations with local community-based organizations to enhance the quality of life for all residents of San Fernando. 
CONTACT INFORMATION
Juan Salas, Community Services Supervisor
(818) 898-1290 | Recreation@sfcity.org
Recreation Park | 208 Park Avenue, San Fernando
DAY CAMP
The City of San Fernando offers Day Camp Programs designed to enhance children's social and recreational abilities and improve their quality of life through educational and enrichment activities. It is our goal to provide children with a safe, fun, and life-lasting experience.
The Day Camp Program offers a variety of activities, including:
CONTACT INFORMATION

(818) 898-1290 |

Recreation@sfcity.org

Recreation Park | 208 Park Avenue, San Fernando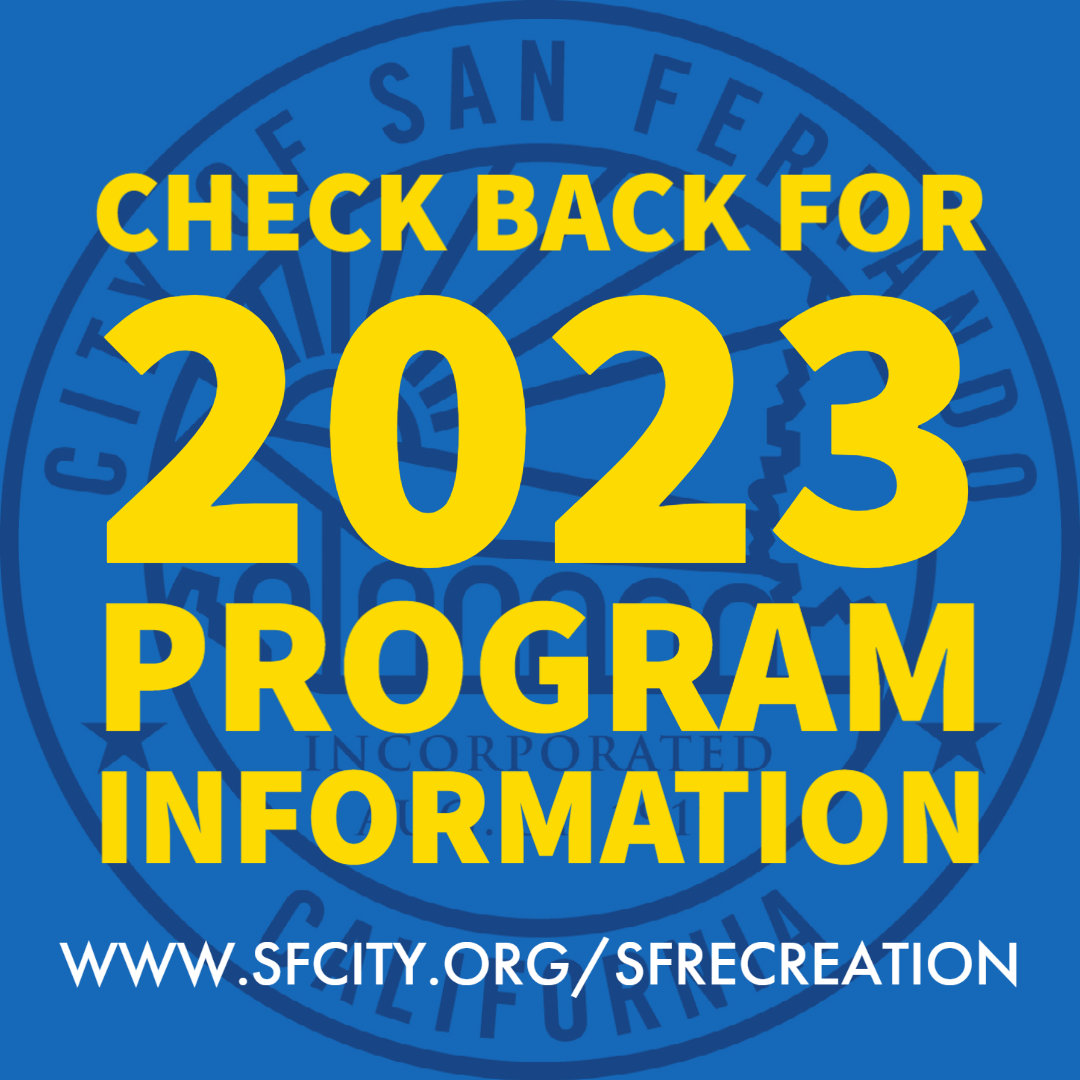 COUNSELORS IN TRAINING PROGRAM
The Counselor-in-Training program is a hands-on experience that educates and trains youth to become future counselors for our Summer Day Camp Program. High school students between 14-18 years of age will work alongside City staff with daily camp activities such as arts and crafts, science, sports,  and cooperative games.
CONTACT INFORMATION
(818) 898-1290 |
Recreation@sfcity.org
Recreation Park | 208 Park Avenue, San Fernando