Welcome to the vibrant world of recreation, where fun, relaxation, and community engagement come together to create unforgettable experiences! We are delighted to introduce you to our Recreation Department, your gateway to a wide array of exciting activities and programs designed to enrich your leisure time and foster a strong sense of community.  
The San Fernando Recreation and Community Services (RCS) Department is committed to enhancing the quality of life for individuals and families in our community. Whether you are looking to unwind, stay active, discover new hobbies, or connect with fellow residents, our dedicated team is here to make it all possible. With a diverse range of offerings that cater to all ages and interests, RCS is confident that you will find something that ignites your passion and brings a smile to your face.
From sports leagues and fitness classes to cultural events and outdoor adventures, the RCS department strives to provide opportunities that promote physical, mental, and social well-being. RCS believes in the power of recreation to bring people together, promote a healthy lifestyle, and create lasting memories.
So, whether you're a long-time resident or new to our community, RCS invites you to explore all that our Department has to offer. Join RCS in making every day an opportunity for fun, relaxation, and personal growth. Let us embark on a journey of discovery, connection, and joy as we build a stronger, more vibrant community together. Welcome to the world of recreation – where the possibilities are endless, and the memories are priceless
RECREATION SCHOLARSHIP PROGRAM
The San Fernando City Council established a Recreation Scholarship Program (RSP) to assist families wishing to participate in the fee-based programs offered to San Fernando residents. RSP assistance is available to San Fernando residents for all recreational programs offered by the Recreation and Community Services Department, including programs for youth, adults, and seniors. 
Scholarships cover 50% of the cost of the activity.
ELIGIBLITY:
Must be a resident of the City of San Fernando

Complete a brief self-certifying form 

Include a San Fernando Water Bill to include proof of residency (utility bill, photo ID, driver's license, etc.)

Assistance will be available on a first-come, first-serve basis

Program begins July 1, 2022 

CONTACT INFORMATION

(818) 898-1290 |

Recreation@sfcity.org

Recreation Park | 208 Park Avenue, San Fernando
PARK REVITALIZATION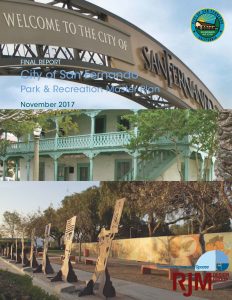 CITY OF SAN FERNANDO PARK & RECREATION MASTER PLAN
The San Fernando Park and Recreation Master Plan (referred to as the Master Plan) serves as a guide and implementation tool for the management and development of parks and recreational facilities for the City of San Fernando. The Master Plan process complements the defined strategy of the 1987 General Plan and Open Space Element, setting forth the vision to designate, as appropriate, open space land for the following
purposes; 
Open space for the preservation of natural resources such as animal and plant life and ecological areas.

Open space for the managed production of resources such as agricultural land areas or major mineral deposits.

Open space for outdoor recreation such as areas particularly suited for park and recreation purposes.

 Open space for public health and safety such as areas which require special management or regulation because of hazardous conditions including earthquake fault zones and unstable soil areas.

Open space dedicated to creating experiences that provide for good citizenship, a sense of community, and a better quality of life. 

The Master Plan also reflects the defined goals and strategies of the 1992 Parks Action Program as follows;

Provide both active and passive park facilities and recreation programs that address the leisure time needs of all ages, income levels, ethnic groups, and physical capabilities to enhance the overall quality of life of San Fernando as a whole.

Promote community health and fitness through active recreation programs.

Engage and maintain community support for parks and recreation programs.

Use San Fernando's park and recreation system to help create a strong community image for San Fernando.

Maintain all parks at the highest level possible to provide a pleasant and safe experience for users.  

CURRENT PARK REVITALIZATION PROJECTS

SAN FERNANDO PARK OPPORTUNITY PLAN | STAKEHOLDER ADVISORY GROUP

This project aims to revitalize urban spaces in the city by conducting a comprehensive inventory of vacant land, park spaces, and potential park spaces, including overlooked areas such as parking lots and medians, in order to identify opportunities for future use and development. The City is working collaboratively with local community members to develop the San Fernando Park Opportunity Plan (SF POP) to prioritize these spaces based on their potential for positive impact.

In parallel, the SF POP project will foster deep community engagement through activities like walk audits, focus groups, and workshop meetings, all facilitated with the invaluable support of Kounkuey Design Initiative, Inc., and Pacoima Beautiful.  Furthermore, the SF POP will generate concept designs for the highest-priority spaces, ensuring that these revitalization efforts align with the unique needs and desires of the communities they serve. 

The stakeholder advisory group will review and critique the engagement plan and shall consult KDI throughout the project term on methods and findings and make a final SF POP recommendation to the City Council.

The Stakeholder Advisory Group (12-15 members) Roles and Responsibilities include:

Attend all stakeholder advisory group meetings (minimum of 4)

Collaborate and provide feedback on engagement plans

Comfortable with being recorded during meetings

Provide recommendations on:

Asset mapping and physical considerations

Prioritization metrics and engagement findings

Final report overview and findings

If you are interested in participating as a Stakeholder Advisory Group member, please contact Ms. Adriana Carías, project manager via email at adriana@kounkuey.org  or call (213) 263 9077. 

The initial community feedback opportunity is in the form of the SF POP Survey, which gathers your ideas for the use of San Fernando's open spaces.  Scan the QR code on the flyer to take the survey.  Everyone who completes the survey is placed in a drawing for a chance to win a $25.00 gift card to a local restaurant.

LAS PALMAS PARK REVITALIZATION PROJECT

The California Department of Parks and Recreation awarded 4.2 million to the City for the Las Palmas Park Revitalization Project as part of the Statewide Parks Development and Community Revitalization Grant Program and Governor Newsom Administration's "Outdoors for All" initiative.

The revitalization project includes the construction of a new multipurpose athletic field, a splash pad, a Tennis/Pickleball court, and new landscaping throughout the park. The project will also renovate the learning center, the patio restrooms, and the playground, which will include ADA accessibility and shading. Other park improvements include renovations to the basketball court, baseball fields, walking paths, and picnic shelters.  Lighting will be installed on the walking paths the baseball fields and the picnic shelters. The outdoor exercise equipment, restrooms, and the concession stand all will be refurbished as well.

User groups, organizations, and patrons of Las Palmas Park were invited to play an important role in the planning process and design of the Revitalization Project. Serval community meetings were hosted by the Recreation and Community Services Department, a series of Focus Group meetings and Pop-up events were also held to gather feedback on the design elements of the project.

The communities' feedback guided the Conceptual Design for the Las Palmas Revitalization Project, which was presented to the City Council on September 5, 2023.  The City Council made the following recommendation to the Plan:

Maintaining mature trees and replanting trees that have been removed (including along the parking lots and walkway)

Incorporate historic signage

Include enhanced ball containment netting (Field 1, Field 2, and basketball courts)

Include additional/enhanced lighting along the walking path and parking lots (especially in darker areas)

Shade structure over the playground equipment

Include ADA improvements (parking & sidewalk)

Include recycled water for the splashpad

Include drinking fountains with bottle filling feature

Ensure wattage in concession stand has capacity to power different equipment at one time

Incorporate dual use warning track/walking path and/or pedestrian gate along mural wall

Consider cost estimates to rehab the mural

Incorporate a barrier between play area and parking lot to protect children

RCS is asking the San Fernando community to provide additional feedback regarding the Conceptual Plan before it is finalized on September 18, 2023.  Follow the link below to provide your feedback. 

Community Engagement

Additional Feedback regarding the Las Palmas Project is being gathered in collaboration with  RJM Design Group who will begin the process of preparing a Conceptual Plan for the Las Palmas Park Revitalization project once the community voice has been heard. The Conceptual Plan will guide the renovations and facilities improvements at the Park.  Explore this site to learn more about this exciting project and how to get involved in the upcoming community outreach process.  Please use the following links below to provide your feedback.

Community Survey

A community survey is also being conducted to help guide the conceptual plan.  We invite park patrons, families, and local stakeholders to help us with the planning and design of this project by completing this short survey. This survey should take less than 10 minutes and your responses will be kept confidential. Click the button below to take the survey.

If you prefer to provide your input in person a series of meetings and Pop up will be conducted between March and May 2023.  The date, time, and location of these in-person meetings are listed in the table below.

| DATE | ENGAGEMENT TYPE | TIME | LOCATION |
| --- | --- | --- | --- |
| March 4, 2023 | Pop-Up: Baseball Opening Day | 9:00 am – 1:00 pm | Las Palmas Park |
| March 13 – 17, 2023 | Pop-Up: Senior Population | 9:00 am – 1:00 pm | Las Palmas Park |
| March 29, 2023 | Community Meeting | 5:30 pm – 7:30 pm | Las Palmas Park |
| April 3 – 29, 2023 | Community Canvassing | TBD | Las Palmas Park Neighborhood |
| April 3 – 29, 2023 | Open House Park Workshop | 9:00 am – 9:00 pm | Las Palmas Park Lobby |
| April 10 – 14, 2023 | Focus Group Meeting | 5:30 pm – 7:30 pm | Las Palmas Park |
| April 22, 2023 | Pop-Up: San Fernando Outdoor Market | 5:30 pm – 7:30 pm | San Fernando Rd & Maclay Ave |
| May 7, 2023 | Pop-Up: Vet in the Park | 9:00 am – 1:00 pm | Rudy Ortega Sr. Park |
| May 31, 2023 | Community Meeting: Conceptual Design Presentation | 5:30 pm – 7:30 pm | Las Palmas Park |

LAYNE PARK REVITALIZATION PROJECT 

The City of San Fernando received funds for the Statewide Park Development and Community Revitalization grant program to improve the recreational opportunities for the residents in and around the Layne Park neighborhood.  

On May 12, 2021 and June 2, 2021, the City hosted in-person meetings to gather input from the community members. The feedback will help guide the design of the Layne Park improvements.

Construction for the Layne Park Project will start on February 27, 2023, and is expected to be completed by August 31, 2023. Stay tuned for information on the Grand Re-Opening that will celebrate the new Revitalized Layne Park!

PIONEER PARK REVITALIZATION PROJECT

The Pioneer Park renovation project aims to enhance the safety, accessibility, and overall quality of the playground for the community's enjoyment particularly for children and their families.  The proposed renovations replace outdated and potentially hazardous equipment with modern, compliant structures that incorporate shading and are ADA assessable.  

A new feature that will be added to the playground will be outdoor fitness equipment, so parents can exercise while watching over their children as they play.  The new playground's proposed design places a strong emphasis on inclusivity and accessibility and it includes features that cater to children with diverse abilities, ensuring that every child can enjoy the space fully.

To ensure that the Pioneer Park Playground Renovated project aligns with the desires and needs of the residents neighboring the park a series of community meetings will be held to gather feedback on the new playground amenities.   The first community meeting is scheduled to take place on Saturday, September 30, 2023, at 10:00 A.M. at Pioneer Park, followed by a  presentation to the Parks, Wellness, and Recreation Commission on Thursday, October 12, 2023, at 6:30 P.M. at the City Council Chambers were the public will have an opportunity to comment on the project.  The final community meeting will be on Thursday, October 26, 2023, at 6:00 P.M. at the Pioneer House.

Pacoima Beautiful our Partners in the community engagement effort will be out canvassing the neighborhood and gathering feedback as well.  Share your thoughts on the new playground design by participating in the community meetings and talking to Pacoima Beautiful staff.  

COMMUNITY SERVICES

The Community Services Division oversees the social services programs and recreational activities for the residents of San Fernando and surrounding communities. Currently, the social services programs include the Elderly Nutrition Program and the Tutčint Youth Empowerment Program. Recreation programs include the Day Camp and the Las Palmas Golden Fun League. The Division fosters collaborations with local community-based organizations to enhance the quality of life for all residents of San Fernando. 

CONTACT INFORMATION
Juan Salas, Community Services Supervisor
(818) 898-1290 | Recreation@sfcity.org
Recreation Park | 208 Park Avenue, San Fernando

DAY CAMP

The City of San Fernando offers Day Camp Programs designed to enhance children's social and recreational abilities and improve their quality of life through educational and enrichment activities. It is our goal to provide children with a safe, fun, and life-lasting experience. 

The Day Camp Program offers fun-filled summer activities, including:

Weekly Theme Activities and more!

WINTER CAMP REGISTRATION OPENS NOVEMBER 27, 2023!

December 18, 2023 to January 5, 2024

Monday through Friday; 7:30 am to 5:30 pm

CONTACT INFORMATION

(818) 898-1290 |

Recreation@sfcity.org

Recreation Park | 208 Park Avenue, San Fernando

COUNSELORS IN TRAINING PROGRAM

The Counselor-in-Training program is a hands-on experience that educates and trains youth to become future counselors for our Summer Day Camp Program. High school students between 14-18 years of age will work alongside City staff with daily camp activities such as arts and crafts, science, sports,  and cooperative games.

CHECK BACK LATER FOR WINTER CAMP INFORMATION

CONTACT INFORMATION

(818) 898-1290 |

Recreation@sfcity.org

Recreation Park | 208 Park Avenue, San Fernando

COMMUNITY RESILIENCE PROGRAM

The City of San Fernando in conjunction with the Dr. Lucy Jones Center for Science and Society is hosting a series of workshops designed to support organizational and individual resilience action plans for the event of a disaster.

Participants will gain:

A customized, local Community Resilience Framework for your organization.

A refined communication strategy for your stakeholders.

A basic operational strategy for your organization in relation to the Community Resilience Framework.

Stronger connections to other local organizations and community leaders.

Stronger connections within your organization.

A deeper understanding of the risks we all face here in San Fernando. 

What is expected?

A 25 hours commitment over seven weeks, about 2.5 hours each week.

Two participants from your organization (Non-profit, schools, large employer, faith-based, or community organization).

Availability on Thursday evenings from 3:00 pm to 5:00 pm (refreshments will be provided at each meeting).

The initial meeting is scheduled for Thursday, April 28, 2022, at Recreation Parks, located at 208 Park Ave., San Fernando, CA 91340.

To register, please complete a commitment form or call the Recreation and Community Services Department at (818) 898-1290.

CONTACT INFORMATION

(818) 898-1290 |

Recreation@sfcity.org

Recreation Park | 208 Park Avenue, San Fernando

TEENS FOR A BETTER COMMUNITY

Teens for a Better Community is a youth leadership program hosted at Las Palmas Park in the city of San Fernando. High school students participate in leadership and character building community service activities, summer camp, city-wide events and various recreational projects that promote a passion for learning and discovering greater achievement in school, work and life. All hours spent with the program will be recorded as community service hours and a certificate of completion will be awarded at the end of the year.

CONTACT INFORMATION

Juan Salas, Community Services Supervisor

(818) 898-1290 |

Recreation@sfcity.org

Recreation Park | 208 Park Avenue, San Fernando

TUTČINT YOUTH EMPOWERMENT

In partnership with the City of San Fernando, the Fernandeño Tataviam Band of Mission Indians, and Pukúu Cultural Community Services offer Tutčint, a youth empowerment program based out of Las Palmas Park in the City of San Fernando.

Due to the current pandemic, all programming is currently online using Zoom Video Conferencing. We work with teens ages 13-17 years of age, from a variety of local middle and high schools.

Online referrals can be completed on our website at: www.pukuu.org/tutcint/.  

CONTACT INFORMATION

(818) 639-3932 ext 2003 |

Kaleigh.Edwards@pukuu.org

Las Palmas Park | 505 S. Huntington Street, San Fernando, CA 91340

PARK CLEAN-UPS & TREE PLANTINGS

PARK CLEAN-UPS

The City of San Fernando, local residents, businesses, and City officials that are dedicated to preserving, protecting, and improving City of San Fernando park facilities. Every summer, the City hosts Clean-up Days at our parks, as well as other locations throughout the City.

ALL VOLUNTEERS ARE WELCOME!

In addition, we encourage all individuals needing to complete community service hours to participate.

For more information about clean-up efforts or for community services projects, contact via the below information. In-kind donations are also welcome, including items like gardening supplies, plants/trees, and other supplies. Of course, we also need volunteers to help staff our events.

CONTACT INFORMATION

Juan Salas, Community Services Supervisor

(818) 898-1290 |

Recreation@sfcity.org

Recreation Park | 208 Park Avenue, San Fernando

TREE PLANTINGS & TREE CARE

As part of the Calles Verdes Project, the City has partnered with Tree People to host several Tree Planting events.  With the assistance of community volunteers, the goal is to plant 950 trees in the City.  The project is funded through grants from Cal Fire and Coastal Conservancy.  These trees will not only help beautify the City, but will also provide shade and help reduce temperature in our residential streets.

If you would like to volunteer and help the City plant more trees in the parkways, please contact Tree People at https://www.treepeople.org/ for more information.

CONTACT INFORMATION

Patsy Orozco, Civil Engineering Assistant II

(818) 898-1224 | POrozco2@sfcity.org

Public Works Department | 117 Macneil Street, San Fernando

CULTURAL ARTS

Arts and culture are essential components in building and sustaining a vibrant, thriving community. Creative and innovative ideas, the core attributes of arts and culture, are central to our community's development. Arts and culture fosters developmental, intellectual and emotional benefits unique to each individual. When arts and culture is widely available, our citizens have sharper insights, greater empathy and heightened community involvement. This is what we strive to accomplish, with Cultural Art Programs in the City of San Fernando, strategically allowing our community to take full advantage of the benefits provided by creative individuals and organizations in the arts and culture sector. 

CONTACT INFORMATION
(818) 898-1290 | Recreation@sfcity.org
Recreation Park | 208 Park Avenue, San Fernando, CA 91340

COMMUNITY CLASSES

All participants, regardless of vaccination status, will be required to wear a mask to enter the facility and while participating in any class or activity. Anyone that has been in contact with or is experiencing symptoms related to COVID-19 are asked to stay home until cleared.

CONTACT INFORMATION
(818) 898-7340 | Recreation@sfcity.org
Las Palmas Park | 505 S. Huntington Street, San Fernando, CA 91340

AZTEC DANCE CLASS

Explore the music, choreography and poetry of this ancient dance tradition while understanding the history behind Danza. Mexica Danza is a form of art that helps build identity and self esteem through the use of culture, history, and the preservation of indigenous traditions.

| | | | |
| --- | --- | --- | --- |
| Las Palmas Park | Thursdays | 7 pm | $10 per month |

FOLKLORICO DANCE

Experience the classical style of Mexican Culture; learn the regional dance of Mexico through movement and music. All skill levels are welcome, no partner required. Ages 5 and up.

| | | | |
| --- | --- | --- | --- |
| Las Palmas Park | Wednesdays (intermediate) | 7 pm  | $60 Resident/$65 Non-City Resident per 12 week session |
| Las Palmas Park | Fridays (beginners) | 7 pm  | $60 Resident/$65 Non-City Resident per 12 week session |

| | |
| --- | --- |
| Session 1 | January 13, 2023 – April 7, 2023 |
| Session 2 | April 14, 2023 – June 30, 2023 |
| Session 3 | July 7, 2023 – September 22, 2023 |
| Session 4 | September 29, 2023 – December 12, 2023* |

*$50 Resident/$55 Non-City Resident per 10-week session

CYNDY'S MIXED LINE DANCE CLASS

Explore different styles of Line Dance with a variety of music including country, pop, rock & roll, and big band.

| | | | |
| --- | --- | --- | --- |
| Recreation Park | Wednesdays | 10 am | $25 per 8 week session |

August 2, 2023 – September 20, 2023

September 27, 2023 – November 15, 2023

November 29, 2023 – January 17, 2024

SENIOR MUSIC CLASS

Learn to play guitar or mandolin, singing techniques and participate in community performances. Class is tailored for senior participants but open to adults 18 and over.

| | | | |
| --- | --- | --- | --- |
| Las Palmas Park | Tuesdays | 9 am | $20 per month |

FITNESS & WELLNESS

The City of San Fernando is committed to providing year-round programming, events, and resources to help improve healthy eating and increase physical activity levels in the community to reduce obesity levels and risk of chronic diseases, including Diabetes. 

CONTACT INFORMATION
(818) 898-1290 | Recreation@sfcity.org
Recreation Park | 208 Park Avenue, San Fernando, CA 91340

FITNESS CLASSES

TOTAL BODY CONDITIONING

Moderate to high intensity full body workout designed for all fitness levels. Develop strength, balance and endurance through cardio and resistance training while increasing cardiovascular agility, burning calories and sculpting your body.

| | | | | |
| --- | --- | --- | --- | --- |
| Recreation Park | Monday – Thursday | 7 pm | $60 per month | Berenice |

INCLUSIVE ZUMBA

Same high energy, calorie burning dance party modified for individuals with limited mobility or special needs. Family participation is encouraged; parent or guardian must accompany the registered participant.

| | | | | |
| --- | --- | --- | --- | --- |
| Recreation Park | Mondays | 6 pm  | $15 per month | Leilani |
| Recreation Park | Wednesdays | 6 pm  | $15 per month | Leilani |

CONTACT INFORMATION

(818) 898-1290 |

Recreation@sfcity.org

Recreation Park | 208 Park Avenue, San Fernando, CA 91340

SAN FERNANDO VALLEY MILE

The City of San Fernando and 3 WINS Fitness from the Kinesiology Department at Cal State University, Northridge have partnered to bring the SAN FERNANDO VALLEY MILE to the City of San Fernando. 

San Fernando invites you to run or walk your best mile in the in the San Fernando Valley Mile race! 

This one-mile challenge, located in the City of San Fernando, will start on Eighth Street and Maclay Avenue. You will run down Maclay Avenue. until you reach the finish line on Third Street. 

All races are one-mile long and have a time limit. 

Elite Run at 8:30am: Under 6 minutes

Perfect Mile Run at 8:45am: 20 minutes

Family Walk/Run at 9am: 60 minutes

Tot Run (Ages 3-5) at 10am: 5 minutes 

Everyone who registers and completes the course will receive a finisher medal & a race t-shirt. 

PACKET PICK-UP

Packets must be picked up on one of the following dates/times: 

Friday, October 27, 6 pm-8 pm at Courthouse Parking (1001 3rd St, San Fernando, CA 91340)

Saturday, October 28 (Race Day), 6:30 am-8:00 am at the Start Area located on Maclay Ave. and 8th Street.  

You must present your ID in order to collect your race packet. 

START AREA

All participants MUST take event shuttles to the start area, located on Maclay Avenue and Eighth Street. There are no post-race shuttles.

Need help training? WE'LL HELP YOU GET READY!

To prepare for this MILE, 3 WINS Fitness is conducting a FREE training program that is designed to get all you to become stronger, more mobile, and more flexible to walk or run the mile faster than when you started training. Our goal is for everyone to achieve and surpass the minimum guidelines with the San Fernando Valley Mile training program. This program is progressive and leads to small improvements each week.

FREE TRAINING

Monday, Wednesday, and Friday

 Las Palmas Park, located at 505 S. Huntington St., San Fernando, CA.

For more information, visit 3winsfitness.com

2022 SAN FERNANDO VALLEY MILE

On Saturday, October 29, 2022, the City of San Fernando, Anthem Blue Cross, and 3 WINS Fitness from the Kinesiology Department at Cal State University, Northridge successfully put on the City's first SAN FERNANDO VALLEY MILE.

Over 600 participants of all ages ran or walked the mile long race. This one-mile challenge began at Eighth Street and Maclay and ended at the finish line located at Third Street and the DIA DE LOS MUERTOS FESTIVAL.  The entertainment was fantastic with music, vendors, face painting, arts & crafts, food, folklorico dancers and the outstanding Mariachi Master Apprentice Program (MMAP) participants. 

In addition, participants built lovely altars to honor family members and friends who have passed. Altars, or "ofrendas",  are a cultural tradition that provide an opportunity to remember and celebrate the lives of departed loved ones.

CONTACT INFORMATION

(818) 898-1290 |

Recreation@sfcity.org

Recreation Park | 208 Park Avenue, San Fernando, CA 91340

If you can walk you can hike. Residents are invited to all of our hikes where transportation and lunch are provided. Come and learn about the different trails that our 30 minutes away from San Fernando.  You will be surprised at how close to nature we really are. Our workshops will teach you how you can help keep our trails clean and preserve them for the next generation to enjoy.

CONTACT INFORMATION

(818) 898-7340 |

Recreation@sfcity.org

Las Palmas Park | 505 S. Huntington St., San Fernando, CA 91340

NATURE ADVENTURE & DISCOVERY CAMP PROGRAM

The Recreation and Community Services Department will host the Nature Adventure & Discovery Camp Program this summer where kids can escape the heat, smog and crowds of the city and step into the wilderness!

Explore nature and have an adventure of a lifetime. The City is collaborating with UCLA UniCamp and YMCA Porter Ranch to host the Nature Adventure & Discovery Camp Program experience at Camp River Glenn or Camp Whittle in the San Bernardino Mountains.

Space is limited to the first 30 campers per camp location. The camp program is free; however, a $50 (refundable) deposit reserves a slot for anyone interested in participating in the camp experience.

Campers can chose one of two dates:

YCMA's Camp Whittle (ages 8 to 15)  – June 18, 2023 through June 24, 2023.

UCLA's Camp River Glenn (ages 10 to 17) – July 24, 2023 through July 29, 2023. 

CONTACT INFORMATION

(818) 898-1290 |

Recreation@sfcity.org

Recreation Park | 208 Park Ave., San Fernando, CA 91340

SPORTS

The City of San Fernando is committed to providing year-round sports programming designed to be a source of fun and enjoyment for the community. Youth Sports focuses on building character and self-esteem while teaching life lessons that go beyond the playing field and Adult Sports provide a place for individuals with combined interest to come together and participate in wholesome sportsmanship and friendly rivalry.  

CONTACT INFORMATION

(818) 898-1290 |

Recreation@sfcity.org

Recreation Park | 208 Park Avenue, San Fernando, CA 91340

ADULT SPORTS

In person Adult Sports is back!

CONTACT INFORMATION

(818) 898-1290 |

Recreation@sfcity.org

Recreation Park | 208 Park Avenue, San Fernando, CA 91340

YOUTH SPORTS

In-person Youth Sports is back! Register now for Summer Clinics.

Please Note: all programs will follow current COVID guidelines.

CONTACT INFORMATION
(818) 898-1290 | Recreation@sfcity.org
Recreation Park | 208 Park Avenue, San Fernando, CA 91340

SENIOR SERVICES

The City of San Fernando provides a variety of programs for our citizens that are young at heart! From leisurely fitness classes and nutrition programs, to clubs that offer a place to gather and socialize, trips and dances, we're sure to have something for you! Scroll through the section below for detailed programming information. 

CONTACT INFORMATION
Juan Salas, Community Services Supervisor
(818) 898-7340 | Recreation@sfcity.org
Las Palmas Park | 505 S. Huntington St, San Fernando, CA 91340

SENIOR HEALTH & WELLNESS

Being fit is a lifelong journey. Come join our classes specifically tailored to 55+ residents. Classes are for all abilities and are free (unless otherwise noted on the flyer). Classes are bilingual. Come make new friends as you get fit! 

All classes practice social distancing and all participants are prescreened before classes start to make everyone feel safe. Indoor classes will require masks at all times for your protection.

CONTACT INFORMATION

Juan Salas, Community Services Supervisor

(818) 898-7340 |

Recreation@sfcity.org

Las Palmas Park | 505 S. Huntington St, San Fernando, CA 91340

SENIOR NUTRITION PROGRAM

CONGREGATE MEALS

Join us at Las Palmas Park for the Elderly Nutrition Program for a nutritional lunch, socializing, and much more! The Congregate Meal Program offers a hot meal to seniors that are age 60+, Monday through Friday, at 11 am. The program is administered by ONEgeneration.

Partially funded by Los Angeles County Area Agency on Aging.

LOCATION

Las Palmas Park Banquet Room




505 S. Huntington St., San Fernando

DAY

Monday through Friday

TIME

9 am – Dining Room opens for meal sign-in, coffee, and socializing




11 am – Meal Service begins

COST

Seniors (ages 60+): $3 Suggested Donation




Non-Seniors: $5

REGISTRATION

Register onsite

INFORMATION

(818) 654-8990

HOME DELIVERED MEALS

The Elderly Home Delivered Meal Program is available for homebound adults living in the City of San Fernando that are age 60+, spouses living with and caring for eligible adults, and disabled children living with the eligible adults. Registration is required. Assessments and eligibility requirements are reviewed by the Home Delivered Meal Coordinator. Meal service begins after applications are approved.

Partially funded by Los Angeles County Area Agency on Aging.

DELIVERY DAYS

Monday through Friday

DELIVERY TIMES

Between 11 am and 1 pm

COST

Seniors (ages 60+): $3 Suggested Donation

REGISTRATION &
INFORMATION

(818) 654-8990

CONTACT INFORMATION

Juan Salas, Community Services Supervisor

(818) 898-7340 |

Recreation@sfcity.org

Las Palmas Park | 505 S. Huntington St, San Fernando, CA 91340