IF YOU ARE EXPERIENCING A LIFE-THREATENING INCIDENT, CALL 9-1-1 IMMEDIATELY
SOUTHERN CALIFORNIA EDISON PUBLIC SAFETY POWER SHUTOFF
(10/30/19; 2:10 pm)
Power has been restored throughout the City. All traffic signals are operable.  
(10/30/19; 11:21 am)
City-wide survey of traffic signals was conducted. Currently, power is out at the below intersections. Stop signs are posted at all effected intersections and should be treated as four-way stops.
Chatsworth Dr & Celis St

Brand Blvd & Pico St

Brand Blvd & Mott St

Brand Blvd & Kewen

San Fernando Mission Blvd & OMelveny Street

Brand Blvd & Glenoaks Blvd

Griswold St & Glenoaks Blvd

Maclay Ave & Glenoaks Blvd

Arroyo St & Glenoaks Blvd

Maclay Ave & Seventh Street

Maclay Ave & Fifth Street

Maclay Ave & Fourth Street
PLEASE USE CAUTION WHEN DRIVING THROUGHOUT THE CITY.
(10/30/19; 9:49 am)
Power is out at Recreation Park (208 Park Avenue). The facility is closed to the public and all programs are cancelled for today.
(10/30/19; 8:30 am)
The City of San Fernando is experiencing a Public Safety Power Shutoff throughout portions of the city. Several intersections have lost power. INTERSECTIONS WITHOUT POWER SHOULD BE TREATED LIKE FOUR-WAY STOP SIGNS.
Intersections without power include the following:
Maclay Ave & Seventh St

Maclay Ave & Glenoaks Blvd

Glenoaks Blvd & Brand Blvd

Glenoaks Blvd & Griswold St

Glenoaks Blvd & Arroyo St

Brand Blvd & Pico St

Brand Blvd & Kewen St

Brand Blvd & Mott St

Celis St & Chasworth Dr

SF Mission Blvd & O'Melveny St
Public Works crews are placing stop signs at all effected intersections.
PLEASE USE CAUTION WHILE DRIVING THROUGHOUT THE CITY.
IF YOU SEE A DOWNED POWER LINE, STAY AWAY AND CALL 911!
Visit SCE's website for the current shutoff status and how to prepare for an electric outage: https://www.sce.com/safety/wildfire/psps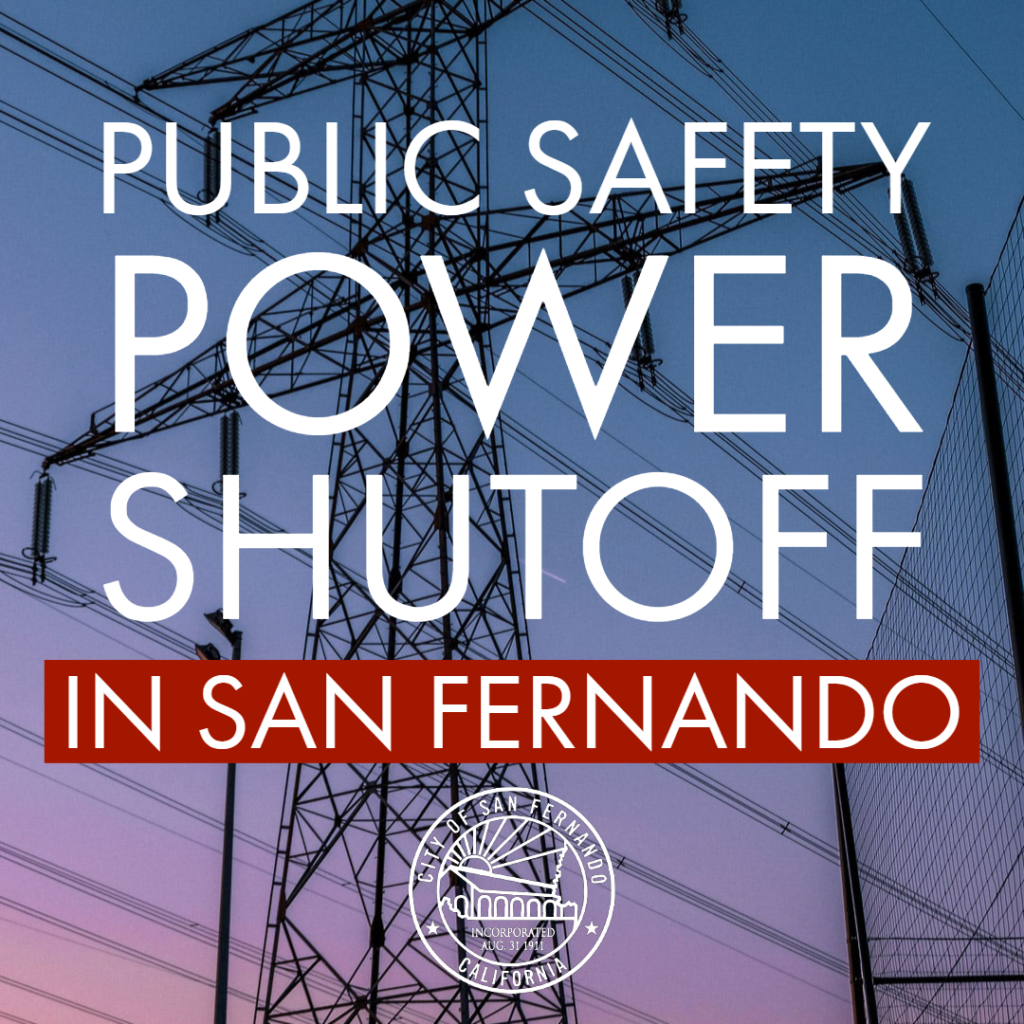 FIRE AND EVACUATION PREPAREDNESS
Wildfires can occur anywhere and can destroy homes, businesses, infrastructure, natural resources, and agriculture.
The City of San Fernando encourages residents to prepare and protect themselves and their property and to take steps now so they may act quickly when family, homes, or businesses are in danger. 
What to do "NOW" to prepare for a fire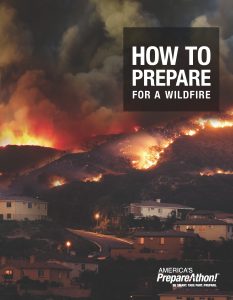 Protecting yourself today means having sources for information, preparing your home or workplace, developing an emergency communications plan, and knowing what to do when a wildfire is approaching your home or community. Taking action today can save lives and property.
Keep evacuation vehicle gas tank full.

Practice family fire drill and evacuation plans.

Practice STOP, DROP, and ROLL (should clothes catch on fire).

Prepare a list of valuables to take with you (store together, if possible).

Make a video of belongings, talking about each (save in cloud).

Take still pictures of all belongings as a backup (save in the cloud)

Document an annotated list of belongings.

Develop outdoor water supply with hoses to reach entire house, nozzle, and pump.

Have fire tools, ladder, and fire extinguishers available.

Post name/address signs clearly visible from street or road.

Post load limits on access bridges.

Clear driveway to at least 20 feet wide with 15 feet vertical clearance (for emergency vehicles).

Clear weeds and cut grass within 10 feet of structures, propane tanks, utility boxes.

Clear debris from roof and gutters.

Clear vegetation from within 3 feet of hydrants.

Remove trees growing through porch, deck, or roof.

Remove trash and debris accumulations.

Remove branches that overhang within 15 feet of roof and chimney.

Stack firewood uphill or on a contour at least 30 feet away from house.

Thin and prune your trees and brush.

Install smoke detectors and test quarterly.

Install only non-combustible roof material.

Install shutters, fire curtains, or heavy drapes on windows.

Install screens on foundation and eave vents.

Install enclosed sides on stilt foundations and decks.
Ten things Firefighters tell their own families about how to prepare
Have an emergency supply kit ready and in your car. Make sure valuables are in a secure location, either in a safe or packed securely in your vehicle.

Keep your car's gas tank full. Park facing out and keep car keys in an accessible location.

Have two ways out of your community in case one way is blocked by fire.

Decide on a pre-established meeting location and out of area contact person in case of separation.

Plan ahead, prepare pets for transport and think about moving them to a safe location early, especially large pets and livestock.

Stay tuned to local media, verified social media accounts and emergency notification systems.

Connect with your neighbors and share verified information.

If you do not feel safe, then don't wait to evacuate! Those with young children, elderly and people with disabilities in the home should plan ahead and evacuate early.

If a fire starts near you, follow all emergency personnel direction. Leave as soon as evacuation is ordered by emergency officials or if you feel unsafe to avoid being caught in fire, smoke or road congestion.

Stay calm and stay alert!
What to do when a wildfire threatens your area - Evacuation Plan
When a wildfire threatens your area, the best action to protect yourself and your family is to evacuate early to avoid being trapped. If there is smoke, drive carefully because visibility may be reduced. Keep your headlights on and watch for other vehicles and fleeing wildlife or livestock.
Fill evacuation vehicle gas tank.

Park evacuation vehicle heading toward street and travel route.

Close evacuation car windows but do not lock car and leave keys in ignition.

Close garage door but leave it unlocked (disconnect automatic garage door opener).

Establish an evacuation plan, travel route, probable destination.

Determine where separated members will meet.

Follow any official agency's evacuation instructions.

Turn off natural gas at meter.

Close or cover outside vents and shutters.

Remove combustible items from around the outside of house. 

Turn off appliances, thermostats, fireplaces, stoves.

Leave one light on in each general area so firefighters can see your house in dark and smoke.

Release any livestock in the area.

Close fire resistant window coverings, heavy drapes, and blinds.

Move overstuffed furniture away from windows.

Close sliding glass doors into the center of the house (don't lock them).

Remove lace, nylon, or light material drapes and curtains.

Place ladder against the roof of the house on the side opposite the approaching fire.

Fill bathtubs, sinks, and containers with water.

Soak burlap sacks, small rugs, or large rags in containers.

If instructed, tie large white cloth to front door knob.

Don't tie up telephone lines (notify friends and relatives by text or email where to contact you).

Make safety equipment obvious for firefighters (spigots, ladders, chain saws, hoses, etc.).

Plug air vents and openings that are closee to the ground.

Prepare an "information note" to leave on the door detailing who you are, where you have gone, where flammables are (such as lawnmower gas, ammo, chemicals – move them all into one place).

Click Here for a printable WHAT TO DO BEFORE LEAVING – FIRE EVACUATION Checklist 

Click Here to for a printable EVACUATE! Worksheet
After a fire
Once the local fire or law enforcement authorities say that it is safe, you may return to your home.
For several hours after the fire, maintain a "fire watch." Check and re-check for smoke, sparks or hidden embers throughout the house, including the roof and the attic.

Use caution when entering burned areas as hazards may still exist, including hot spots, which can flare up without warning. Evacuate immediately if you smell smoke.

When cleaning your home, wear a NIOSH certified-respirator (dust mask) and wet debris down to minimize breathing dust particles.

Discard any food that has been exposed to heat, smoke or soot.

Do NOT use water that you think may be contaminated to wash dishes, brush teeth, prepare food, wash hands, or to make ice or baby formula.

Photograph damage to your property for insurance purposes.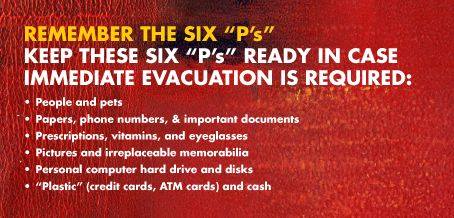 STORM AND HEAVY RAINS PREPAREDNESS
When storms or heavy rain is expected, the City of San Fernando encourages residents to take simple steps necessary to protect themselves from injury and their property from storm damage.
When rainstorms impact the San Fernando area, flood control channels, arroyos and other low-lying areas can quickly fill with fast-moving water, creating a life threatening danger. It is against the law to be inside a flood control channel.
Flood Prevention and Storm Preparedness Tips
Ensure that your drains, gutters and downspouts are clean and functioning properly. This is especially important for flat-roofed buildings.

Keep stormwater troughs, pipes and culverts on your property free of debris.

Move valuable or easily damaged items away from low-lying areas prone to flooding.

Secure trash containers, household waste, chemical spills and outdoor storage before they are swept away, spread contamination or block storm drains.

Closely examine windows, skylights and doors that may benefit from caulking or weatherstripping.

Inspect your attic for "leaks" of sunlight, or signs of previous water damage that may indicate where pre-storm repairs are needed.

Establish household supplies (bucket, mop, towel and tarpaulin) to minimize damage from a sudden leak or stormwater seepage.

Prepare your household to remain safe (battery powered lamps, no candles) and functional (fully charged cell phone, manual garage door operation) in the event of a storm related power outage.

Review how to safely turn off your home's electric, water and natural gas service in the event of severe storm damage.

Put the Flood Safety and other free Mobile Apps from the American Red Cross on your smartphone.

Discuss your Family Emergency Plan, including what every member of the family will do in the event of a flood or mudslide.

Prepare an Emergency Supply Kit that includes food, water, medications, flashlight, battery-powered radio, rain gear and first aid supplies.

Gather and safely store important documents to take with you in case of evacuation.

Confirm out-of-state family contacts so that friends and relatives can determine your location and status.

Consider the safety of those with disabilities or access and functional needs.

Plan for the needs of pets at home and if you are evacuated.

Identify multiple safe routes from your home or workplace to high ground and practice your evacuation plan.

Have sturdy, sensible shoes with nonskid soles for use in a rainstorm. Pack an umbrella, small flashlight and rain coat.

Check your car's wipers, lights, tire inflation and tread wear to assure safe operation, and keep your vehicle fueled in case power is cutoff to local fueling stations.

Be prepared to monitor local news for official warnings, evacuation orders and the status of streets, highways and transit systems.

Be aware of local driving laws, and how to operate your vehicle safely or use public transit in conditions altered by weather.

Lower the level of your swimming pool to prevent overflow and flooding.

Determine if your home is located in a flood hazard or landslide prone area.

Landscape slopes with plants that are fire retardant, water wise, suitable for erosion control and allow for smart water retention or reuse. Consider the temporary use of plastic sheeting on slopes prone to erosion.

Large trees that could threaten your home should be examined by a certified arborist. Confirm that any hillside on your property has been evaluated by a licensed soil engineer.

If necessary, consult an engineer or licensed contractor to design or build permanent water and debris control systems for your property.

Contact your insurance agent to assure that your flood and storm coverage is adequate and in effect. Confirm the 24-hour contact, policy and claim filing numbers for your insurer(s). Place that information in your mobile phone and keep a printed copy in the glove box of your car.

Keep sandbags, plywood, plastic sheeting, lumber, hand tools and other materials handy for addressing additional stormwater issues.
Personal Safety During a Storm or Flood
When Thunder Roars, Go Indoors!

Limit non-essential travel, and avoid the urge to sightsee. Remind all household members not to play or linger near catch basins, canyons, flood control channels or storm drains.

Do not walk through flowing water. Drowning is the leading cause of flood deaths, mostly during flash floods. Currents can be deceptive; six inches of moving water can knock you off your feet.

Never drive through a flooded area where you cannot see the pavement, or bypass road barriers.

If you become stranded in your car by moving water, stay with your vehicle and move to the hood or roof if water continues to rise.

Stay away from power lines and electrical wires. Deadly electric current can travel through water.

Report downed power lines in the City of San Fernando to the Southern California Edison (800.611.1911). If the downed wires threaten life, call 9-1-1.
What should you do if you fall in moving water?
Remain calm. Don't waste energy yelling for help after someone has spotted you.

Try to float on your back with your legs straight and your feet pointed downstream.

Use your legs to shove yourself away from obstructions.

Keep your head up so that you can see where you are going.

Watch for obstacles and debris! If a tree or other stationary object is blocking the channel, forcing water over it, try to flip over on your stomach and approach the obstacle head-on, crawling over the top of it.

Most victims in swift water die when they get pinned against obstacles or get trapped in submerged debris and vegetation.
What if you see a person or pet fall into moving water?
Do not go into the water after the victim.

Do not try to pull the victim out with your hands, rope or similar device. Do not attach anything to yourself and toss it to a victim in the water. The force of the current will pull you in.

If possible, throw a floatation device to the victim, such as a boogie board, Styrofoam ice chest, basketball or other unattached object.

Immediately call 9-1-1.

Tell the 9-1-1 operator that a person or animal fell into the channel and is being swept downstream.

Give accurate information about where and when you saw the victim and what the victim was wearing.

Though members of your Los Angeles Fire Department are specially trained and equipped to respond to water rescues, not every victim survives. We therefore remind you that when it comes to swift moving water: 'Stay Away and Stay Alive!'
Sandbags
Sandbags are available at 501 First Street, San Fernando. We'll provide the sand and bags, but please bring a shovel (sorry, shovels keep disappearing).
DISASTER PREPAREDNESS
With a population of 25,145 residents, the City of San Fernando values the great responsibility to protect the public while ensuring residents have the tools and resources they need to strengthen their preparedness for emergencies and natural disasters.  Being housed in the County of Los Angeles, the City of San Fernando is vulnerable to the detrimental effects of earthquakes and cannot understate the importance of resident readiness. The City of San Fernando is dedicated to providing leadership to improve the community's ability to BE READY for the next earthquake.
Mission: To provide City of San Fernando residents with tools and resources to prepare, respond and recover from an earthquake.

Vision: A thriving and earthquake ready City of San Fernando.

Are you Ready? Southern California has approximately 10,000 (unfelt) earthquakes every year.

If an earthquake hit tonight, would you be prepared? Earthquakes strike with no warning, NOW is the time to PREPARE so you can RESPOND and RECOVER.  Check out these resources to help you, friends, family, and co-workers BE READY.

History

Training Available

CERT Training

(website) – Free training is available to help you, friends, family, and co-workers learn how to effectively and efficiently respond an emergency.

WHAT IS 9-1-1? | ¿QUE ES EL 9-1-1?

Nine-one-one is the number to call to get help in a police, fire or medical emergency. A 9-1-1 call is transmitted over dedicated phone lines to the 9-1-1 answering point closest to the caller. Trained personnel then send emergency help as needed.

El nueve-once es el número de teléfono para recibir asistencia policiaca, de incendio o emergencia médica. La llamada al 9-1-1 se trasmite sobre una línea telefónica dedicada al  centro del 9-1-1 más cercano. Personal entrenado  manda  la asistencia de emergencia necesaria.

ADDITIONAL RESOURCES AND WEBSITES

POLICE FACILITY

Police Department

910 First Street, San Fernando, CA 91340

Non-Emergency (818) 898-1267

extension 0 for Dispatcher

PROPERTY BUREAU Monday through Friday | 8:30 am to 5 pm

(818) 898-1277

CITY HALL

117 Macneil Street, San Fernando, CA 91340

PUBLIC WORKS Monday through Thursday | 7:30 am to 5:30 pm Friday | 8 am to 5 pm (818) 898-1293  

After Hours Emergency
(818) 898-1267

CODE ENFORCEMENT Monday through Thursday| 7:30 am to 5:30 pm Friday | 8 am to 5 pm

(818) 898-1227

ANIMAL CARE & CONTROL

Los Angeles County

(661) 257-3191